The cost of a mommy makeover in Las Vegas can differ depending on the individual. However, one interesting statistic is that in 2020, the average cost of a mommy makeover was $20,000 – an increase of 10% year-to-year. Some surgeons include all fees and costs on average, while some break out fees like anesthesia and garments separately.
At our practice, many women look to regain their pre-pregnancy bodies and feel more confident in their skin. We understand the importance of a procedure tailored to their needs to achieve the desired results.
That's why we strive to provide each patient with personalized care and attention throughout the process.
Factors That Affect Mommy Makeover Cost in Las Vegas
With the cost of a mommy makeover, there are a few factors to consider.
First, the number and extent of the surgical techniques can significantly influence the overall cost.
Second, the location of the procedure can also affect the price.
Last, the surgeon's experience can also affect the cost of a mommy makeover in Las Vegas.
I always suggest that my patients do their research when looking at the different factors that affect the cost of their mommy makeover. Ultimately, this will help ensure they get the best results and an affordable mommy makeover Las Vegas.
Surgical Techniques
For a Mommy Makeover in Las Vegas, several factors affect the cost.
For example, use less invasive treatments such as non-surgical skin tightening. The cost of a mommy makeover in Las Vegas may be lower than if you opt for more complicated surgery, like a tummy tuck or breast augmentation. A full tummy tuck with muscle repair is a more complex surgery than a mini tummy tuck with only skin excision. Each of these factors into the final cost of your surgical plan.
More sophisticated procedures may be necessary if you want dramatic results that last longer. It would help if you discussed your options thoroughly with your surgeon before deciding which procedure is right for you.
Ultimately, it's best to base your decision on what will give you the desired results.
Location
Location is an important factor to consider when deciding on a Mommy Makeover in Las Vegas. Depending on the type of procedure you want to have done, the cost of a mommy makeover in Las Vegas may vary based on where the surgery occurs. However, compared to the West Coast and larger cities, Las Vegas is an affordable and fun location for surgery. And remember the saying, "What happens in Vegas stays in Vegas."
Procedures are more expensive when performed in a hospital than in an outpatient clinic or office setting. If you're looking for specialized treatments, such as reconstructive surgery, you may need to find a surgeon who operates out of a hospital with more advanced facilities and equipment.
Ultimately, it's best to discuss your options with your cosmetic surgeon so that you can choose the most suitable location for your desired results.
Surgeon Experience
Once you've decided on a location for your Mommy Makeover in Las Vegas, it's important to consider the surgeon's experience.
A good cosmetic surgeon will be board-certified and have extensive experience performing the type of procedure you're looking for.
Finding someone with an excellent track record with successful results is also beneficial. After all, you want the best mommy makeover surgeon in Las Vegas you can find. Ask about their qualifications, such as where they received their medical training and how long they've been practicing.
This information can help ensure you're working with someone qualified.
Getting more than one consultation before deciding on a surgeon to compare unique experiences and ensure your choice is the best for you is always a good idea.
Be bold and ask questions and do online research reviews to learn more about each doctor before deciding. With research and due diligence, you can feel confident that your chosen surgeon has the qualifications and experience to bring out the best results from your Mommy Makeover in Las Vegas.
Common Procedures In A Mommy Makeover
In a mommy makeover, I often recommend breast augmentation, tummy tuck, liposuction, and breast lift.
I'm also experienced with skin resurfacing, breast reduction, labiaplasty, arm lift, facelift, buttock lift, vaginal rejuvenation, rhinoplasty, eyelid surgery, brow lift, and fat transfer.
Depending on the patient's needs, I'll recommend the right combination of procedures to achieve the desired results.
The cost of a mommy makeover in Las Vegas can vary depending on the specific procedures chosen and the clinic you visit.
Breast Augmentation
I specialize in providing women with natural-looking results that help restore their confidence and self-image. Here in Las Vegas, breast augmentation done as a stand-alone surgery can range from $6,000-$8,000 per procedure, depending on the type of implant chosen and other factors.
With state-of-the-art technology and many years of experience, I can provide my patients with beautiful, natural-looking results.
Keep in mind for women that breastfeed, a breast lift is very common. In particular, doing a breast augmentation without a lift can result in poor proportions, shape, and nipple area that is too low to be aesthetically pleasing.
Tummy Tuck
Tummy Tucks are an important part of a Mommy Makeover, as they help to restore the abdomen to its pre-pregnancy shape. A tummy tuck flattens and tightens the stomach while smoothing any irregularities.
I recommend this procedure for my patients if they have excess skin and fat after pregnancy or if the abdominal muscles have been stretched out.
With my experience and expertise, I can provide you with results that look natural and feel comfortable – so you can feel confident in your body again.
My tummy tucks typically range from $6,000-$8,000, depending on the complexity of the procedure. Most women are concerned with the scar from having a tummy tuck. See the graphic below for an idea of placement (below the bikini line, when possible) and length. Each surgery has unique considerations. Your surgeon will tell you which tuck you need to get the results you envision.
So don't wait any longer – let me help you get back to feeling like yourself again!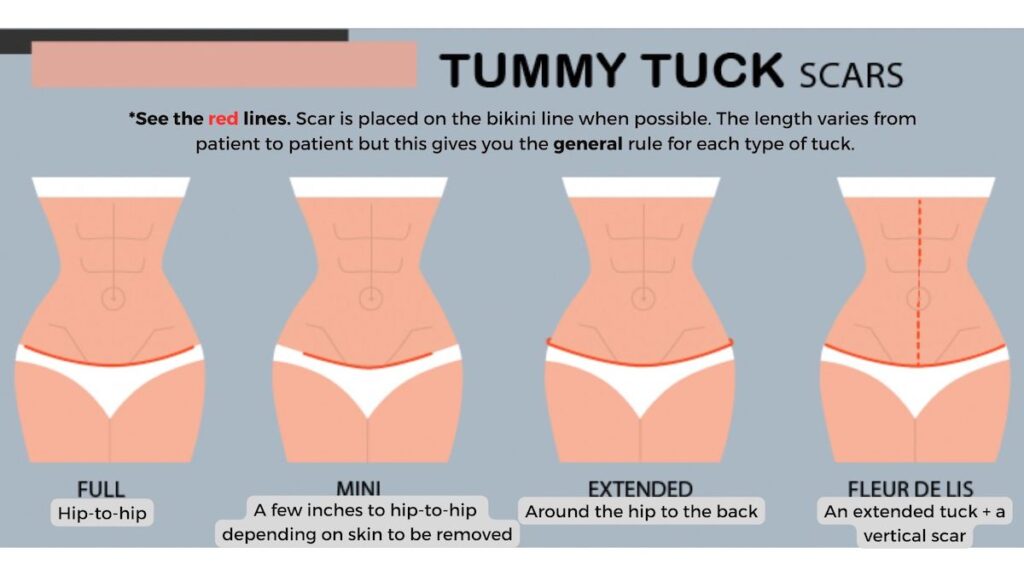 Average Price Of A Mocfmmy Makeover In Las Vegas
The mommy makeover procedure is becoming increasingly popular in Las Vegas, as it provides a way for women to restore their youthful appearance after having children. It typically combines several treatments, such as breast augmentation, tummy tuck, and liposuction, to give mothers the desired results.
The cost of a mommy makeover in Las Vegas can vary depending on the individual's desired outcome and the techniques used by the cosmetic surgeon.
Generally, the average price of a mommy makeover in Las Vegas is around $18,000 – $22,000. If your surgical plan includes extensive 360 high-definition liposuction, it may be more.
This includes all surgical fees and associated costs of a mommy makeover in Las Vegas, such as medications and post-operative care.
Proper planning and budgeting allow patients a safe and successful experience while achieving their desired aesthetic goals.
Payment Options For Mommy Makeovers
At my practice, a Mommy Makeover can be a significant financial commitment. The cost of a mommy makeover in Las Vegas usually depends on the types of procedures being performed and any additional procedures requested by the patient. A mommy makeover in Las Vegas typically costs between $14,000 and $20,000.
I am committed to helping my patients achieve their desired results while maintaining their budgets. We offer several financing options to help make your treatment more affordable and accessible.
Our payment plans are designed to provide flexibility, allowing you to spread out your payments over time with no interest or finance charges. We also accept most major credit cards and can create customized payment plans if needed.
Finding A Qualified Surgeon
Choosing an experienced and qualified surgeon is the most important factor when considering a mommy makeover in Las Vegas. With years of experience performing these procedures, I can offer my expertise and help you achieve the desired look.
It's essential to perform research to ensure that your surgeon has the qualifications and experience required for a successful outcome. Ask about board certification, professional organizations they are members of, hospital privileges, and other relevant information.
Be sure to ask for before and after photos of patients who have had similar procedures performed by the same surgeon so that you can judge the quality of their work.
Discussing questions with your surgeon before scheduling your procedure is important. Ensure that all of your questions have been answered completely so that you feel comfortable proceeding with treatment.
A good relationship between patient and surgeon is key to achieving a successful result.
Conclusion
As a cosmetic surgeon, I understand the importance of finding the right environment for your Mommy Makeover.
The cost of a mommy makeover in Las Vegas can vary based on many factors, but the average starting price is typically around $18,000. Separately, these procedures would be considerably more, so doing a full mommy makeover makes sense.
Finding a qualified surgeon you feel comfortable with that fits your budget is important, but let me stress the most important order of your considerations. The most expensive cosmetic surgeries are the ones that have to be redone. In this life-changing decision, you want to be happy with the results and get on with life. The value must be weighed against the cost. Searching for "cheap mommy makeover packages price near me" can lead to disappointment and poor results. With cosmetic surgeries, the right surgeon may be worth a somewhat higher cost. It can save you thousands in the long run.
Various payment options are available to make a Mommy Makeover more affordable, so be sure to explore all your options before deciding.
Investing in yourself and taking the time to research will ensure you get the best results possible for your Mommy Makeover. For more information about what is a mommy makeover, see our page with more in-depth information.